(CHATTANOOGA)– Although Chattanooga may not be the largest city, there are certainly a variety of options for people to choose from when it comes to Chattanooga's Night Life.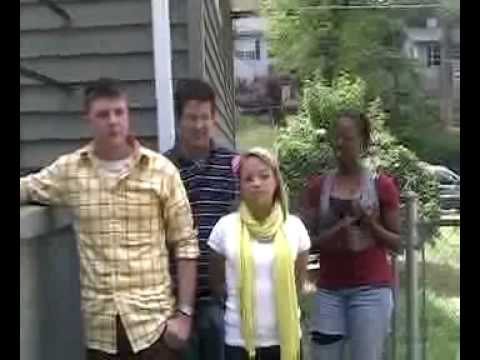 Mark Langston, Tennessee Tech junior, Patrick Siler, UTC senior, Reneese Pope, UTC senior, and Mallory Slaughter, UTC alumni, are the people in the video telling you of what they enjoy doing in the night life of Chattanooga.
There are many different genres of night time activities people of Chattanooga can enjoy. Here are several places people enjoy going in the downtown area:
The Fat Cat Ferry is a delight in the day with children and family to enjoy a nice ride along the Tennessee River. Once the sun begins to set, people come aboard the Fat Cat Ferry to socialize amongst friends and enjoy nice cold beverages. It is $6 for an all-day pass to ride the Fat Cat. It allows you to stay on the boat as long as you like or get off the boat and come back on as you please. Beer is $2-$3 and this year the ferry is offering liquor drinks as well.
The Lookouts minor league baseball started their season up on April 7, 2009 and ends in September. It is a great way to spend time with friends and family. They offer hot dogs, nachos, slushies, cold drinks and the beer garden, which you have to be 21 and up to enter. Beers range anywhere from $2-$4. Ticket prices vary upon where you want to sit, but most college-aged people buy general admission tickets for $4 and go hang out in the beer garden.
 Hair of the Dog is a locally run bar with an old English pub unique style. If you are looking for a place with great drink specials from open to close, this is your place to go with $2.50 well drinks and $2 beer. Beer prices are anywhere from $2-$10 a piece, with over 50 beers to choose from. H.O.D. has trivia night every Wednesday night from 8 p.m.-10 p.m. It is open Monday-Sunday, 11 a.m.-3 a.m. You can order any food from their menu up until 2:30 a.m. H.O.D. is always 21 and up.  
 Chili's is a great place to go if you are on a budget and enjoy congregating amongst friends and new faces in the bar. Chili's offers two for one drink specials everyday from open till 10 p.m. If you get hungry while you are there, Chili's is currently offering ten meals for under $7.
Raw Sushi Bar turns from only a restaurant to a dance club upstairs every Friday and Saturday night. It also features live bands and artists downstairs near the entrance. Raw is open Monday-Saturday from 11 a.m.-3 a.m.
http://www.myspace.com/jimstriker
The Big Chill offers some of the best and strongest drinks in Chattanooga. The monster of them all is a St. Croix Joy, with the main ingredient being PGA so you need to be careful with this one. Big Chill's weekly specials are:
Tuesday- $2 Corona's and karaoke
Wednesday- $1 beer with a $5 cover fee
Thursday- $2 Corona's and trivia
It is happy hour daily from open till 8 p.m. with half off most drinks. You must be at least 21-years-old to enter.
http://www.wcities.com/en/record/46,186765/433/record.html
T.G.I.Friday's offers a specialty drink menu in the bar area that offers half priced drinks with less expensive appetizers. The happy hour is from open till 10 p.m. in the bar.
Rio Picante Rooftop is located at the former Tortilla Factory. It was remodeled before opening. Rio has a great view of the Tennessee River. They offer some drink specialties depending upon the weekday. You must be 21 and up to enter.
Every Thursday Taco Mac has pint night. Try the beer of the month and get a free pint glass. They offer a variety of over 350 beers to choose from. Taco Mac is open Monday from 12:00 p.m.-3:00 a.m., Tuesday-Friday from 11:00 a.m.-3:00 a.m., Saturday from 11:30 a.m.-3:00 a.m., and Sunday from 11:30 a.m.-12:00 a.m.
Rhythm and Brews features live bands with local and big name artists. You must be 21-years-old to enter a show. Price and timing vary on the band or artist that will be playing. It is connected to Big River so you can take your drinks in and out of both places. This is a great place to go if you love live music.
http://www.ticketbiscuit.com/rhythm-brews/EventSpotlight.aspx
If you enjoy playing pool Big River is the place for you. It offers several pools tables for people to play pool but there are several sections for seating at the bar, tables and booths. The only beer offered is Big River brewed beer with seven varieties to choose from.
T-Bone'sis a laid back bar filled with familiar Chattanooga faces. It offers a variety of things to do. It features over 10 televisions, so it is a great place to go watch sports games. If you're not that into sports there are darts to play or video game machines. If not games either, T-Bone's has live music almost every Friday and Saturday at 10 p.m. You must be 21 to enter.
http://www.tboneschattanooga.com
The owners of Hair of the Dog opened Terminal, which is a new establishment in the historic hotel that is located right next to the Choo Choo. They feature six of their freshly batched beer, which is brewed right in the basement of Terminal. It is open Monday-Sunday from 11 a.m.-12 a.m.
Midtown Music Hall is a restaurant by day with food catered by The Yellow Submarine and by night is a club. Every Wednesday night is $5 to enter and it is dollar beer. Every Thursday night you pay $7 to get in and it is all you can drink beer with a live d.j. On Friday's and Saturday's Midtown features local and big name artists. Times and prices vary upon the band or artist.
http://www.ticketbiscuit.com/midtownmusichall/eventspotlight.aspx
Tremont Tavern is a locally run neighborhood bar that features an impressive amount of specialty beers and a diverse menu. Every Monday night at 8 p.m. is trivia night. Every Tuesday it is open mic night at 8 p.m. Every Wednesday a featured artist or band plays at 5 p.m. Every Friday and Saturday night there are live bands or artists that begin at 10 p.m.
Market Street Tavern  opened almost a year after the owner of Tremont Tavern wanted to expand, hence now Chattanooga has Market Street Tavern. Happy hour is every Wednesday, which is half priced drinks beginning at 5 p.m. Every Friday and Saturday nights there is live music beginning at 9 p.m.
Nightfall is a free musical event featuring live performances by world-class musicians. The musical genre is filled with a variety of eclectic mix of rock, blues, jazz, reggae, zydeco, funk, bluegrass or folk music. It is open to the public ever Friday night at 7 p.m. They offer cold drinks and delicious food for purchase. Bring your friends, family and dog down to this event. It begins May 22 and ends on September 25. It is located in Miller Plaza near Market Street Tavern.
http://downtownchattanooga.org/nightfall/
Riverfront Nights is very similar with Nightfall. It is a free musical concert on the riverfront every Saturday night at 7:30 p.m. It offers a broad genre of music, anywhere from blues, funk, rock, country and Latin infusion. There is an opening act and the headliner will be on the Fat Cat Ferry Stage. Riverfront Nights begins on August 2 and ends on September 27, except for August 23 for the Southern Brewer's Festival and August 30 for Labor Day weekend. This event is located by the city pier.
http://www.timesfreepress.com/news/2008/jul/09/chattanooga-riverfront-nights-concert-schedule-set/
Las Margaritas  is a family friendly neighborhood restaurant that features live music every Wednesday night. They offer delicious Mexican food with some of the best margaritas in town. If you're not a margarita person, Las Margaritas features a 32 oz. beer for only $3. It is open Monday-Thursday from 11 a.m.-10 p.m., Friday and Saturday from 11 a.m.-11 p.m., and Sunday from 12 p.m.-10 p.m.
 http://www.lasmargaritaschattanooga.com/
The Pickle Barrel is a Chattanooga original that you will not find anywhere else by it's rustic decor infused with hippie Chattanooga culture. It has a one of a kind spiral staircase in the middle of the bar that leads you to upstairs seating. Dining on the outdoor roof is the best place to sit for a great atmosphere of the downtown area. Pickle Barrel has a great menu with Reubens being a number one seller along with a vast selection of beer and tasty mixed drinks. The weekly drink specials are:
Monday- $1 domestics
Tuesday- $4 Ice Picks flavored with orange, raspberry or cherry
Wednesday- $4 two for one well drinks
Thursday- $1 drafts
Sunday- Bloody Mary's
You must be 21 and up to enter.
Meeting Place is a unique upscale restaurant and bar that reminds you of a place that would be in New York City by its decor and it is right here in Chattanooga. The downstairs is the dining area. The upstairs overlooks the dining area with couches, high-top tables and bar seating to enjoy drinks with your friends in an intimate setting. Meeting Place offers a unique menu from raw Hawaiian tuna snacks to meat cheese plates or a full course meal like the duck confit. It is open Monday-Thursday from 5:00 p.m.-5:30 p.m. and Friday and Saturday from 5:00 p.m.-10:00 p.m.
http://www.stjohnsrestaurant.com/meeting-place.php
The Chattanooga Billiard's Club is a great place to frequent if you love to play pool or smoke cigars. It has its own Avo Cigar Lounge where you can pick out your own hand-rolled cigar to enjoy. CBC has thirteen pool tables and four dart boards. Every Tuesday night is dart night where people compete in dart games. Every Thursday is pool league night. CBC is open Monday-Saturday from 11 a.m.-3 a.m. and Sunday from 1 p.m.-3 a.m.
http://www.cbcburns.com/billiards/downtown.php
Lamar's has some of the strongest drinks in town, so unless you have a sober driver, don't have too many of these. You can enjoy a softly lit room with light jazz playing in the background in the Chrystal Lounge. You must be at least 21 to enter.
Parkway Billiards is a uniquely decorated bar with doors on the ceiling and a huge chandelier in the middle of the bar. Its happy hour is everyday from 4 p.m.-7 p.m. on drink and pool specialties. If you ever go, you must try the Parkway Punch at least once although most think it to be lethal from the amount of alcohol in it, it is certainly delicious. Parkway has 12 pool tables downstairs and 5 dart boards upstairs. Every Tuesday night is the ladies APA Road League. Every Wednesday night is mixed APA Road League. Every Thursday night is APA in House 8 Ball League. Parkway is open seven days a week from 4 p.m.-3 a.m.
  http://www.parkwaybilliards.com/
Easy Bistro and Bar is newly decorated restaurant and bar with a modern New York style. It has a wide variety on the menu catering to seafood lovers. The menu varies with the season. It changes as the seafood season changes for the freshest catch along the Gulf Coast to be offered in downtown Chattanooga. Drink prices vary depending upon the type of beverage you would like. Easy Bistro's specialty drinks range anywhere from $7.00-$10.00, beer varies from $3.50-$4.50 and wines are between $5.00-$12.00 by the glass. It is open Sunday-Thursday from 11:00 a.m.-10:00 p.m. and Friday and Saturday from 11:00 a.m.-11:00 p.m. The bar stay open until whenever the crowd clears out.
http://www.easyseafood.com/ie/
Mellow Mushroom is a pizza bakery. They offer weekly drink specials, like every Sunday there are deals on Bloody Mary's or Mimosa's and every Monday there are deals on Margarita's. You should go check out the specials for the other days. Mellow is open Monday-Thursday from 11 a.m.-11 p.m., Friday and Saturday from 11 a.m.-12 a.m., and Sunday from 11 a.m.-10 p.m.
Bluewater Grille has unique dining decor with an open, inviting space for casually sophisticated people to relax over some of the freshest foods accompanied by one of Bluewater's beers. It has five original freshly batched beers. Some of its drink specialties are: Thursdays are $5.00 Margarita's or Mojito's and Sunday's a build your own Bloody Mary bar. You should go down and visit the restaurant to check out the other daily drink specials.
Specialty cocktails and Martini's-$8.50
All of the wines vary from $5.75-$12.00 per glass
Bluewater's original beers-$4.50
All domestics-$3.75-$4.75
Jet Stream Grill is a locally run restaurant by one of our local weatherman. The bar's back wall is completely made of glass allowing people to see along Frazier Avenue and the outdoor patio. Every Tuesday it offers half off wines all day. Jet Stream is open Monday-Thursday from 11 a.m.-9 p.m., Friday and Saturday from 11 a.m.-10 p.m., and Sunday from 11 a.m.-5 p.m.
These are several of the best places to go to in Chattanooga at night if you are looking to meet new people or be around familiar faces. Feel free to leave a comment to let others know of other places to frequent or what you think about some of the places that are listed above.