By: Jennifer Smith
Chattanooga(UTC/The Loop)-  Country music singer-songwriter Eric Church played for a crowd of rowdy fans at the Chattanooga ChooChoo on Saturday as part of his Young and Wilder Tour.  Church played in a small venue in the rear of the ChooChoo's vast property. After making an increasingly anxious crowd wait over an hour after his opening act, the Dirt Drifters, left the stage,  he and his band emerged.  Church then revealed that he had a broken foot but promised a great show anyhow.  Church played for over two hours to a loud and rowdy audience who were overjoyed to hear the artist's country and southern rock fusion.
Matt Smith, 19 of Cookeville, Tenn., said, "He had a broken foot but it didn't even seem like it bothered him.  He played with more energy than I've seen a lot of people play with and he was sittin' down the whole time."  Smith and several friends from Cookeville drove to Chattanooga just for this show.  When asked why he liked Church and his music so much, he said, "Because every song either relates to you or you can tweak it just a little bit to relate to you.  Changing a name or a type of alcohol… you can change it and it perfectly relates to your life."
Church began by playing the song "How 'Bout You" that made him a fixture on country radio in 2006 and quickly followed that with his chart topping songs "Two Pink Lines" and "Guys Like Me."  He also included his most famous ballad "Sinners Like Me" followed by a new one, "Carolina."  The show went on to what Smith called a "sweet jam session" where Church and his band played without vocals for over ten minutes.  This led into what 24-year-old Cookeville native Caleb Garrett said is his favorite song: "Drink a Little Drink, Smoke a Little Smoke." Garrett said, "Eric Church is like one of the only true country music people left.  I gotta come support the guy, he works hard, he writes great music, and he rocks!"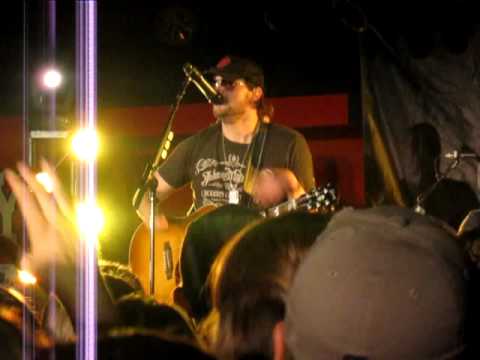 Amanda Grodeman, 21 of Chattanooga, said she is not even a country music fan but is glad she took a chance and went to the show.  "I didn't think I was gonna like it but it was really fun.  He's definitely an entertainer and I can appreciate that," she said.
Church emerged on the country music scene in 2006 with his first single "How 'Bout You"  and has since then, had six singles to make the US Country Top 100 Chart.  His most recent single, "Love Your Love The Most" is currently at number 12.  He has released two albums, "Sinners Like Me" and "Carolina", both of which have been ranked in the top 10 on the US Country Chart.  Below is a list of his songs and their peak positions on the US Country Chart.
14.  How 'Bout You (2006)
19. Two Pink Lines (2006)
17. Guys Like Me (2007)
51. Sinners Like Me (2008)
46. His Kind of Money (My Kind of Love) (2008)
12. Love Your Love The Most (2009)
For more information on Eric Church and a list of tour dates visit Eric Church's Official Website.  Church's music is also available for purchase on iTunes.