UPDATED
CHATTANOOGA (UTC/The Loop) — Ann Coulter spoke to a crowd Monday at UTC. Here is the coverage from a local television station, WRCB.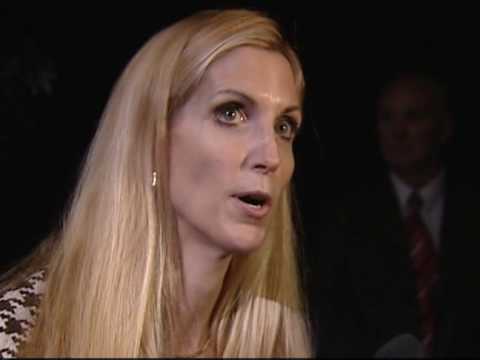 The  conservative columnist held nothing back as she spokes as part of the Burkett Miller Lecture Series. Coulter took jabs at  Congress, the Obama Administration, homosexuals and then the mainstream media, saying the media is "a watchdog" for the Obama Administration. Coulter also said  the day Obama was elected was the first time she wasn't proud of her country.
"It's almost worse than big government; it's specific government," said Coulter. "Like Cash for Clunkers, we are going to help the people who sell cars not the people who sell refrigerators."
While the most applauded her comments, some left the Fine Arts Center saying Coulter's speech was insulting. 
 UTC professor Dr. Rebecca Jones gave the rebuttal, says public figures like Coulter results in a rejection of politics among college students.
"We are here to say today that it does matter that public figures and commentators offer ethical, thoughtful discourse, because whether they want to or not, they serve as models for young people as how to participate as citizens in America," said Jones.
(UTC/TheLoop)
Chattanooga—Two UTC professors will take on well known political speaker Ann Coulter  in October, and you can see them do it.
Coulter is well known for her strong right wing opinions, and her lecture is expected to be filled with harsh criticism of the current presidential administration.
Dr. Heather Palmer and Dr. Rebecca Jones were asked to make a rebuttal to Coulter's lecture, and to offer a formal debate. Both are prepared to handle the challenge.
"Dr. Jones will be speaking, because we agreed she could probably keep her cool under fire better than I can. I can get very vocal about politics and we wouldn't want to cause too much drama up there on stage. While it would be entertaining, we're trying to avoid a cat fight," Dr. Palmer says.
Rebecca Jones teaches courses on argumentation studies, rhetorical theory, writing, and gender studies, and coordinates the English department's internship program. Her current work investigates the connections between individual belief, activist rhetorics, and the role of citizens in an active democracy. Dr. Palmer specializes in ancient and modern rhetorical history and theory, feminist rhetorics and women's studies, and media and cultural studies.
Coulter is the legal correspondent for Human Events and writes a popular syndicated column for Universal Press Syndicate. She is a frequent guest on many TV shows, including:
Hannity and Colmes
Blitzer Reports
The O'Reilly Factor
Good Morning America
Coulter has also  been profiled in numerous publications, including:
Time
The New York Observer
National Journal
"Dr. Palmer and I will be offering a balanced argument to Ms. Coulter's Republican perspective,"  Dr. Rebecca Jones says. "We have been researching this together, but I will be presenting."
"We're very excited about this opportunity," Dr. Heather Palmer says,"Ms.Coulter is a very well known political figure. She's famous for her very extreme conservative opinion. She'll be talking about the new presidency and criticizing the kind of change that is on the horizon. Our job is to show the other side of things."
Palmer says Coulter will lecture for 40 minutes, and then Dr. Jones  will offer their critique for 8 minutes. Afterwards, Coulter will be allowed more time to respond to the critique.
Coulter will speak on "Evaluating the Change in American Government" at noon in the University Center Auditorium on October 5.