By: Cody Mohon
CHATTANOOGA, Tenn. (The Loop)-The cool, crisp air of fall winds its way through campus, tossing fallen leaves aside. The leaves are changing and a rainbow of colors paint the blue sky. Many students cringe away from the approaching cold, dreading finals and the chillier months ahead. However, junior Nathalia Vargas couldn't be happier. Fall is her favorite season in beautiful Chattanooga.
"The weather is just so perfect and soothing. The temperature is in the 70's which is great for doing anything outdoors." Vargas said. "I just love everything about fall; the colors, the scents, the changing of the leaves, and the coming of winter. It's very exciting!"
Chattanooga always has plenty of outdoor activities going on, but with the recent perfect weather it is almost impossible to remain indoors. When asked what her favorite fall activities are, Vargas replied, "Hiking! Signal Point is a great place to go to just relax and soak up the season. Also, pumpkin carving and dressing up for Halloween are always fun!"
Plan your own hike at Signal Point here!
"It's also great that this is the only time of the year that pumpkin stuff is really popular like pumpkin pie, and pumpkin drinks. Especially pumpkin lattes from Starbucks! Also, candy corn because you don't really buy those any other time of the year! I just enjoy all the fall flavors."
Being from Memphis, Vargas is used to the flat scenery that surrounds it. "In Memphis it is really plain so it's hard to enjoy fall colors there as much. Even just driving from Memphis to Chattanooga you can see the different colored trees covering the mountains. It's a beautiful drive!"
Vargas even dreams of tying the knot during this vibrant time of year. "I would love to get married during the fall. It just has so many wonderful colors and textures. I want to be in the mountains with the leaves changing color and my wedding colors to reflect the reds, browns, and oranges of the season."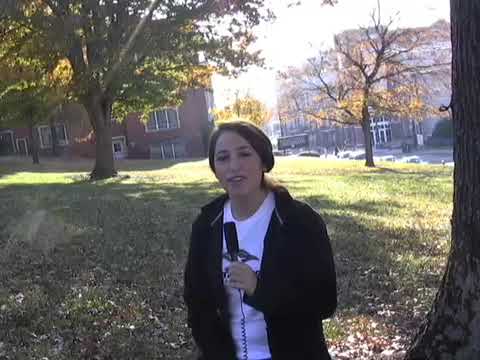 With Thanksgiving break quickly approaching, all students understand how hard it is to remain in a classroom even when the weather isn't as breathtaking as it has been. When asked if she felt the need to break out of the classroom, Vargas replied, "Yes!  I would rather be outside enjoying the scenery and the leaves and the weather than be cooped up in a classroom any day."