By: Cody Mohon
CHATTANOOGA, Tenn. (The Loop)- With finals and holiday breaks, it is no surprise that workout and health plans can fall to the wayside. With the dropping temperatures and the sun setting at around 5:30, people are less likely to brave the cold to get to the gym during this time of the year.
However, Lindsay Manning, Coordinator of Fitness for the ARC, emphasizes the importance of remaining healthy throughout the holiday break. "From November 1st to January 1st people can gain anywhere from ten to fifteen pounds. You have to really watch this by keeping up your exercise routine."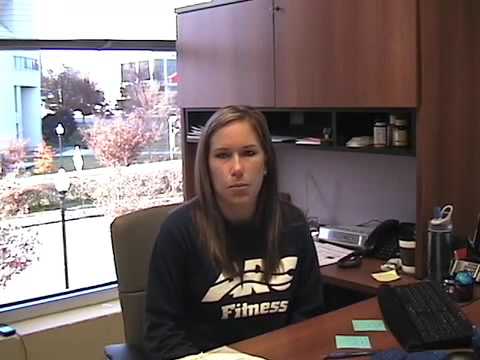 Manning, who graduated from UTC in 2005 as an exercise science major, was working at a local fitness complex when she came across the job at the ARC. "I was thinking about coming back to grad school when I saw this opportunity. We never had anything like this when I was here, so obviously it caught my eye.  I ended up applying, and it ended up being the perfect job for me!"
Once here, Manning really began focusing on how to make the gym more excited and inviting for students. "It's a great opportunity to come here and build from the ground up a fitness program at UTC and try to get more students involved in working out. We don't want them thinking of it as coming to the gym, but coming to have fun and rock climb and take classes. We don't want them to hate coming to work out."
The staff of the ARC may be what is reeling students in as well. Manning said, "We all know each other very well and are very close knit here at work. So by just being on their level I feel like I can relate to students. They feel comfortable coming to me asking for help with how to use machines and do ab exercises." Manning thrives on the interaction she has with the students. "I don't know what I would do if I was in a job where I was by myself all the time doing nothing."
Unfortunately, the chilly temperatures and approaching finals might be what are holding students back. When asked if the number of students coming to work out has increased or decreased as finals get closer, Manning said, "This is actually pretty experimental right now because it is our first fall, our first time being open during the holidays. We thought we would see it slacking off, but its actually increasing daily. We are hoping to see that through exams and the Christmas break." Manning believes the reason for the increasing numbers is because of the newness of the gym and students spreading the word.
Manning says that most people may slack off in their workout during the holidays because there is not as much outdoor activity to participate in and there are other things to do like holiday shopping. " We are hoping to offer a lot of different things to do inside like rock climbing and other stuff when it is cold outside. The indoor track is great, because you have a great view of downtown, and if you're like me I like to have something to look at," Manning said. With the gym open and classes running until December 23rd, Manning hopes that students will continue coming and enjoying the indoor aspects of the gym.
The classes available at the ARC until December 23rd are:
Step Aerobics, Tuesday and Wednesday from 3 to 3:45
Boot Camp, Tuesday and Thursday from 6 to 6:50
Hip Hop Dance, Tuesday from 5 to 5:50
Yoga, Tuesday and Thursday 4 to 4:45
Ab Attack, Monday from 6:15 to 7
Spin Class, Monday and Tuesday at both 5 and 6, Friday at 5
To see more upcoming classes available at the ARC next spring click here!
Also, the classes being offered at the ARC can be a great way to escape this holiday season. Manning said, "All of our classes will be continued over the break. Yoga would be a great stress reliever on the holidays, so we are really hoping to see students who stay or live in Chattanooga coming in."
Ashley Danford, sophomore at UTC, will be going home to Franklin for the holidays. She plans on going to yoga classes at a local gym there. Also, Danford loves bouldering and hopes to locate a rock climbing facility in Franklin.
For other students going home, Manning advises getting involved in holiday runs and walks. "It not only raises money for charity, but it would be great to walk like 3-6 miles. You will feel better about yourself when you are about to stuff your face!" Also students at home can stick to the basics. "Do stuff at home like crunches and stretches. Anything like that really counts. Or you could take a little time, like 15 minutes, to go on a brisk walk. Stay active; don't just lay on the couch all break."
To find out how to give "fit gifts", visit the website here!
Manning also has her own disciplines over the holiday break when indulging is so easy. "I can't go without having some eggnog over Christmas. So, the biggest thing I do is not tell myself I can't have something. Because once I tell myself I cant have any eggnog, that's all I want. What I try to do is indulge if I'm put in the place to, but I check my portion size. I have a half a cup of eggnog or a half a piece of pie instead of saying I cant have that altogether. I think everyone needs to indulge sometimes, or else you will go crazy and eat like a whole bag of cookies."
To find out how far you would have to walk to burn off those holiday goodies, click here!
Also, Manning will remain as constant as possible with her current workout. "I will lift weights and take morning walks if it's a day I know I'm going to eat a lot like Christmas or Thanksgiving. Basically I will just keep up cardio and weight training through the holidays."
Adam Garrison, senior at UTC and member of UTC Outdoors, plans on staying active over the holidays by going on a skiing trip to Colorado with one of his friends. However, the last two weeks of break he plans on just relaxing and enjoying time off.  "I work out and stay active all the rest of the year, so I feel I can take a break around this time of year!"
So, to beat the holiday bulge, students should watch their food portions and keep active. If you are remaining in Chattanooga, be sure to visit the ARC or take an Ab Attack class with Manning! That should keep the weight gain at bay.
Check out how to stay healthy mentally and physically throughout exams and the holidays from a similar story printed in The Echo.