'Tis the season to be… generous? Explore your options to buy gifts that give back this holiday season.
By: Mary Smith
CHATTANOOGA, Tenn. (UTC/TheLoop) –With holiday shopping having already begun, it's not too late to become more enlightened to buying gifts that benefit others in need.
Most college-aged students are pretty broke and are on an all too familiar diet of Ramen Noodles. How can college-aged students make a difference in the world on such a tight budget? Many organizations are benefiting others in need from their sales. TOMS, STOP THE NAKEDNESS, and other organizations offer fair priced gifts that appeal to trendy people.
Several companies have flourished using the principal of giving back to underprivileged people. TOMS shoes created a one-for-one movement in the United States in 2006 when Blake Mycoskie founded his revolutionary company. When you purchase a pair of TOMS shoes, a pair of shoes are sent to a child in need. The traditional style shoe starts at $44. Gift cards, shirts, hoodies and other accessories are also available online. Since 2006, TOMS shoes has grown in popularity as well as product variety and will not be going out of style anytime soon.
Nashville business, the Mocha Club, also has it's own line of scarves that profit women in Ethiopia. The line is called fashionABLE. Scarves are appropriately priced at $22 per scarf. FashionABLE hopes to produce jobs for women in impoverished nations. When women cannot find jobs to support their families, many are led to a life of prostitution. FashionABLE hopes to prevent this from happening by providing jobs to the women in Ethiopia. Check out the informational video from livefashionABLE.
STOP THE NAKEDNESS is a non-profit company that has the same motivation as TOMS shoes. STOP THE NAKEDNESS is a company directed at showing the world love by donating clothing to children in need. For every shirt that is purchased, they will send a shirt to a child in need; but it doesn't stop there. They send the consumer (you) a shirt to give to a friend to help raise awareness. The graphic tee shirts start at $20. Find out more about STOP THE NAKEDNESS in this promotional video: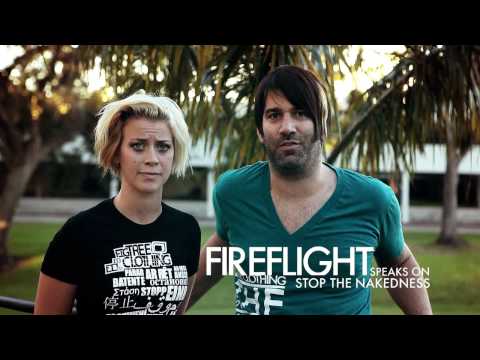 Looking for a great pair of pajama pants? Try Punjammies. Punjammies are pants that are made by women in India who have been rescued, released, or escaped from forced prostitution. The Punjammie Project hopes to empower women by giving them a marketable job skill, therapy, medical care, and an education. Every purchase goes to establishing a fair trade wage, financial savings, and medical treatment. Punjammie pants start at $30 each.
UNICEF, or the United Nations Children's Fund, is an organization that has been aiding children since it's beginning in 1946. UNICEF claims to be a "global humanitarian relief organization providing children with healthcare, clean water, nutrition, education, emergency relief and more." It is funded by contributions from individuals, groups, corporations, and several governments. Some of their financial support and awareness comes from their gift store. There is a wide range of gifts on the site for parents, siblings, friends and co-workers. Holiday cars, children's toys, home decorations and jewelry are just a few things that UNICEF offers. UNICEF also says that, "…every UNICEF card and gift you buy helps children around the world."
GreenShops is an eco-friendly organization that benefits people and animals in third world countries from their sales. The Green Shop website contains a multitude of enjoyable nick knacks as well as more sophisticated gifts. One of the items for sale is a bag that says, "Feed the children of the world." When a person buys this bag, one child in Africa will be fed lunch everyday for a year.
Online shopping is an annoyance to some. It's understandable. Luckily, Calvary Chapel, 3415 S. Broad Street, is hosting a fair trade market on Sunday December 5th. Fair trade coffee from Honduras, jewelry, bags, and more will be for sale. Holiday shopping before the dreaded finals will be a nice calm before the storm.
A lot of gifts that keep on giving can be very expensive. For instance, sponsoring a child through Compassion, Invisible Children or joining the Mocha Club can get expensive. College students don't always have the money to commit to a monthly pledge. But, with gifts that keep on giving, it is a one time financial commitment to help people who need help.
Another way college students can give gifts that keep on giving is to serve in community kitchens over the holidays. The winter season is especially hard on families and volunteers are needed at the Chattanooga Community Kitchen in various areas. Helping out the staff and aiding people is a great way to give to the people Chattanooga who are in need.
Another college friendly approach to beneficial gifts is to participate in the Angel Tree Program through the Salvation Army. Angel Tree is a program where people buy a child gifts for during the Christmas season. They choose the child by picking their Angel off the Salvation Army Christmas tree. Volunteers are also needed to work the tree stations.
The last suggestion for buying gifts that benefit others is to ask people to donate to a certain cause for your holiday gift.