By: Corey Honeycutt
Chattanooga/Tenn.(UTC/LOOP)–October is the time of year when the leaves begin to change color, and the air is cooloer and crisper. However, it's best known for that favorite holiday of kids, Halloween.
What better way to spend an evening than going from house to house asking for free candy and dressing up as your favorite super hero or villian. It's a time of year when you get to be something you aren't.
This is also the time when haunted houses and attractions go up each boasting to be scarier than the last. Patrons go through these haunts looking for the thrill that only  a haunted attraction can bring, but what goes in to these attractions to make them possible?
A well known haunt in Chattanooga is the Ruby Falls Haunted Caverns, that has been rated one of the best haunts in the Southeast for the past few years. This haunt is made up of around 75 actors ranging from ages 16 and up. The actors are only one part of this haunt that keep it running. Behind the scenes there are makeup artist, the creators and Ruby Falls staff that make it all possible.
Josh Philpott a student at UTC and veteran of the Haunted Caverns has been a slider there for the past few years. He started at the haunted caverns when he ran into Todd Patton at a halloween store and discovered that they had a similiar interest in making running a haunt.
"Todd introduced me to sliding and its a powerful scare tactic and I love doing it."
Todd Patton has been doing haunts professionally for years and commutes between Chattanooga and Nashville to run the haunts he has there and here. Todd and Tim ? created the Haunted Caverns  five years ago and have been creating new  and scarier scenarios to take place in the Caverns ever since.
"I actually got into it because of charity and started my first charity haunt back in 1998."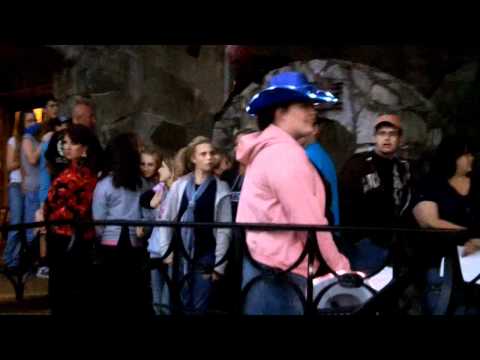 This years story is about a deadly disease that breaks out in the town Hannibal Hill called the Cerberus virus. The virus causes the infected to lose their sense of being and have a lust for human flesh. There are four stages of the virus. Infectids, Carrions and Scourges with the fourth being the most deadly, Sliders.
Guests will find themselves in a completely different world as they descend the 260 feet under ground and are ushered along by scientists and military who are only trying to get them out alive. Your only guiding light through this nightmare is the dull green glow of a single glow stick.
The Haunted Caverns will be scaring patrons every weekend from now until Halloween.