by Lauren Carter
CHATTANOOGA, Tenn. (UTC/The Loop) – Students may soon enter college classrooms where their professor has a handgun on the desk during lecture, an idea that was once thought impossible but is now closer to reality than ever.
HB 2016, a bill sponsored by Tennessee Republican Rep. Andy Holt of Dresden, would allow faculty and staff with handgun carry permits to bring their guns to campus. The current law prohibits anyone other than law enforcement to bring weapons to campus.
In a release from the University of Tennessee at Chattanooga, the administration stated their opposition of "a bill that would allow more people to carry guns on campus, contributing to unsafe conditions for students, faculty, staff, and visitors."
"We consider our responsibility to provide a safe campus environment among our top priorities," said UTC Chancellor Roger Brown. "Campus law enforcement and law enforcement leaders from across Tennessee have said more guns on campus would not make campuses safer," Brown said.
The statement from UTC administrators said that higher education leaders have joined police forces statewide, as well as the Tennessee Association of Chiefs of Police in opposition to this proposal.
The law enforcement group said in a letter to the General Assembly, that allowing guns on campus could create difficult scenarios for police who wouldn't be able to determine the motives of armed people on campus.
The group also said handgun carry permit holders don't have the training needed to handle guns in stressful and dangerous situations.
"From a law enforcement perspective, having more people with guns on campus increases the risk for a situation to occur and decreases safety." UTC Police Chief Robert Ratchford said in the administrator's statement. "Police officers are trained to handle situations. To have others get involved in a situation only complicates matters and raises the risk of injury," Ratchford said.
Faculty and student government organizations at UTC have also opposed the bill.
Dr. Victoria Steinberg, Professor of French and President of the UTC Faculty Senate, said in the administrator's statement, "As a faculty member at UTC, I can assure you that I feel quite safe with the current level of security and protection afforded by our campus police in coordination with city police, and therefore do not feel that arming students or faculty would do anything except complicate security."
UTC is not the only campus in the University of Tennessee system that is opposing the bill.
In a previous statement, University of Tennessee President Joe DiPietro said, "The University of Tennessee has repeatedly stated its opposition to allowing anyone other than law enforcement officers to carry guns while on campus."
DiPietro said that the safety of all students, faculty and staff is a responsibility that is taken seriously. Campuses work with law enforcement to take measures to create the safest environments possible, however campuses will not become safer with more gun carriers, DiPietro said.
Republican Gov. Bill Haslam and Senate Speaker Ron Ramsey are also working together against the bill.
Haslam told The Associated Press in a recent statement that he wants to leave it up to administrators at each school to decide whether to allow guns to be carried by anyone other than law enforcement.
Ramsey told The Associated Press that the only major gun bill he wants to focus on is one that would ban businesses from prohibiting their employees from storing guns in cars parked on company lots.
"I want to concentrate on what I think is meaningful and what will help Second Amendment, gun carry permit holders the most," Ramsey said. "And I do think that guns on campus is a sideline that we don't need to be getting to right now."
The number of Tennessee handgun carry permit holders in January was nearly 308,000, a 40 percent increase since January 2009.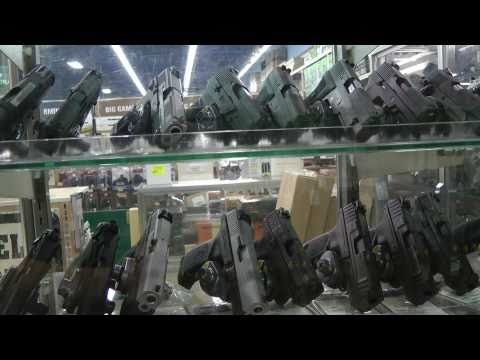 Members of the organization 'Concealed Campus' lobby for the right to carry guns on campus and their views of their 2nd Amendment rights.